I have a real passion about bathrooms or more specifically, showers . Besides the fact that so many are either overdone or just cheap, it often seems whoever designs them has never actually used a shower. I cannot count how many times I've been in a shower stall that was just small enough to constantly bang your elbows. One of our showers was especially fun with it's hard ceramic soap dish protruding from the wall, just waiting to take a bite out of your forehead when you bent to wash your feet.
And to top it off, there is rarely any light. If there is any place that you want to have an abundance of light available, it's the bathroom and shower. Not that you always need all that light but I put in either enough fixtures or at least bright bulbs with dimmers so when you do need it, boom. And the shower stall always gets its own light as they are invariably too dark. This is especially true with a tub and curtain. Plenty of light when the curtain is open but close it and whoosh, the light is gone.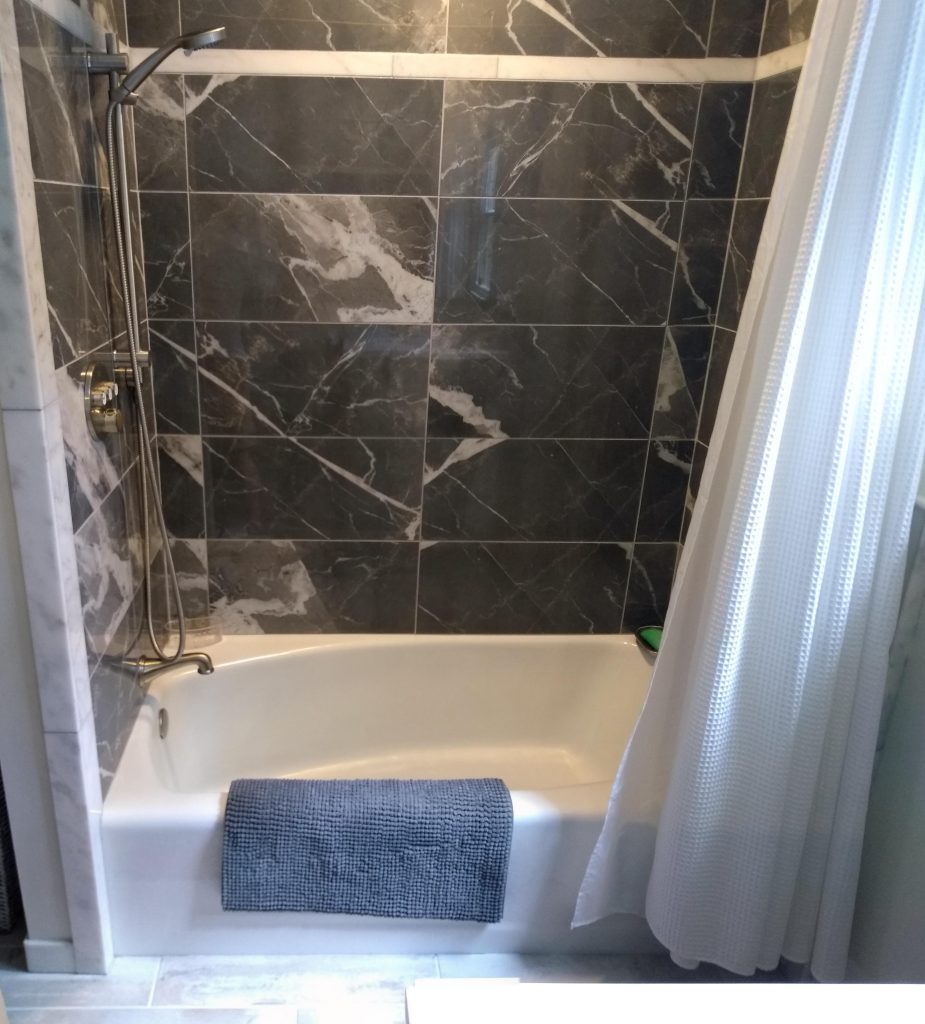 This renovated shower area kept the original tub and uses dramatic marble-like porcelain tiles for the walls, slightly broken up with a narrow strip of white marble. That same white marble comes back throughout the bathroom as baseboards, a backsplash and in a few other unique places.
This shower curtain rod is a solid, one-piece stainless-steel rod. Extension curtain rods are much easier to install but the seam where the pipes fit together is a constant obstruction when opening and closing the curtain. In this case, we selected a "hotel style" curved rod to provide extra space in the shower area. There is also a bright water-resistant LED ceiling light.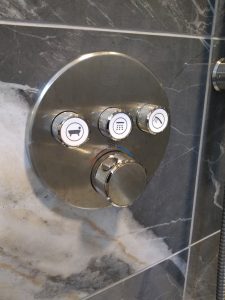 For this bath shower combo, I used a "GROHTHERM® SMARTCONTROL." This is a one-piece triple function thermostatic valve that controls the water for the rain head, the handheld shower head and the tub spout.
If you're going to renew a shower, my recommendation is to only consider thermostatic valves, that's all I've installed since our first home's shower renovation in the '90s. They maintain the temperature, regardless of what's happening elsewhere in the house. Thermostatic valves do cost more but never having a sudden blast of cold or hot water is worth it!
This bathroom is pretty big so a double sink vanity is appropriate and the six drawers will get used however, all the space in the middle of the countertop would have been somewhat wasted so I instead, opened it up and dropped the middle section to make a sitting area for doing makeup and the like.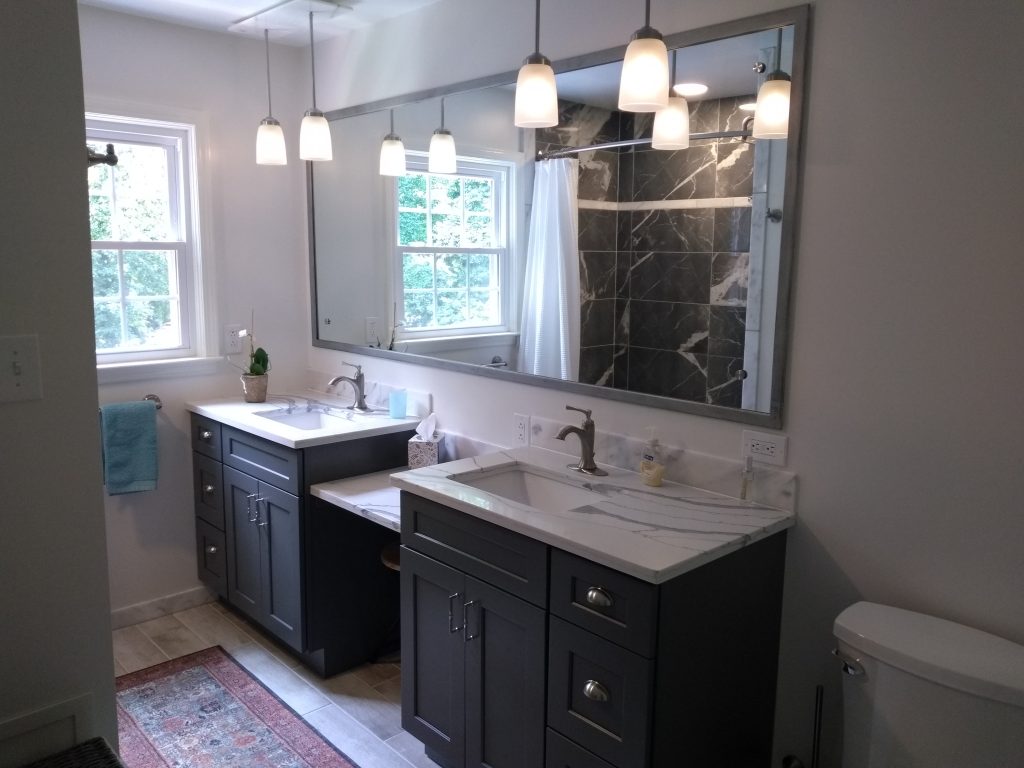 The countertop is actually quartz, a man-made "engineered stone" composed of crushed natural stone such as granite, marble and quartz as well as other waste materials such as ceramic and glass. This is all held together with a resin or cement-based binder.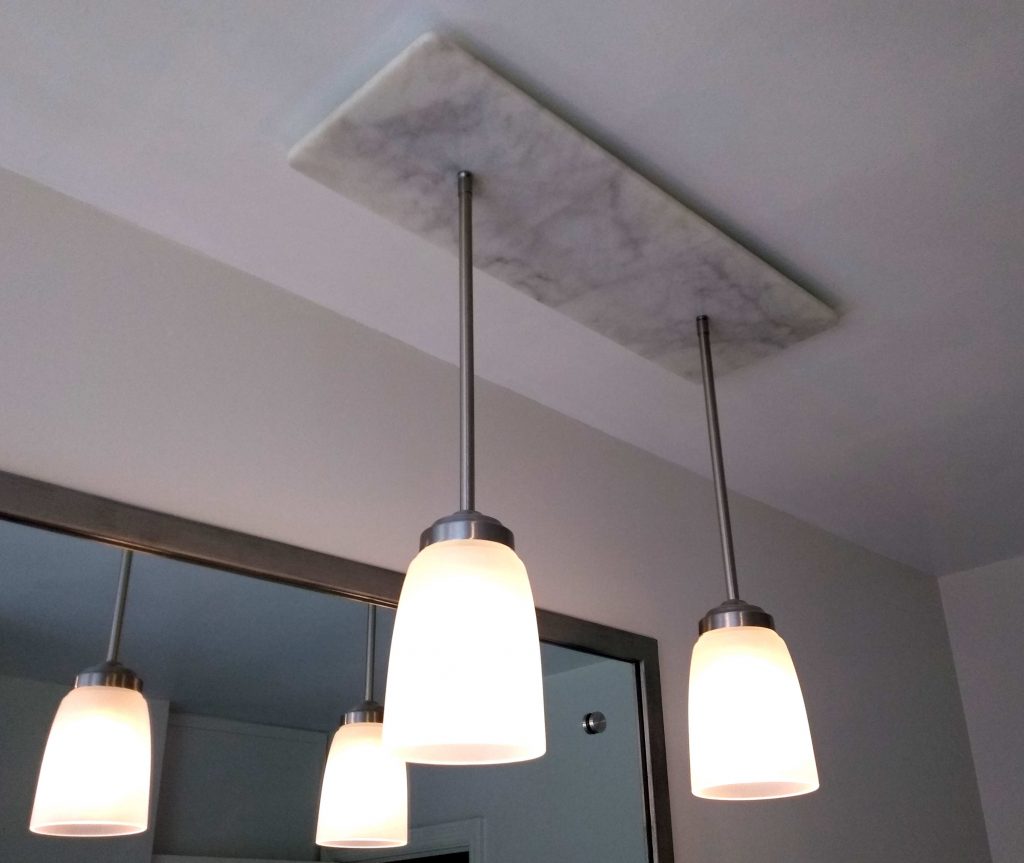 Interestingly, the mirror is the original, circa 1969.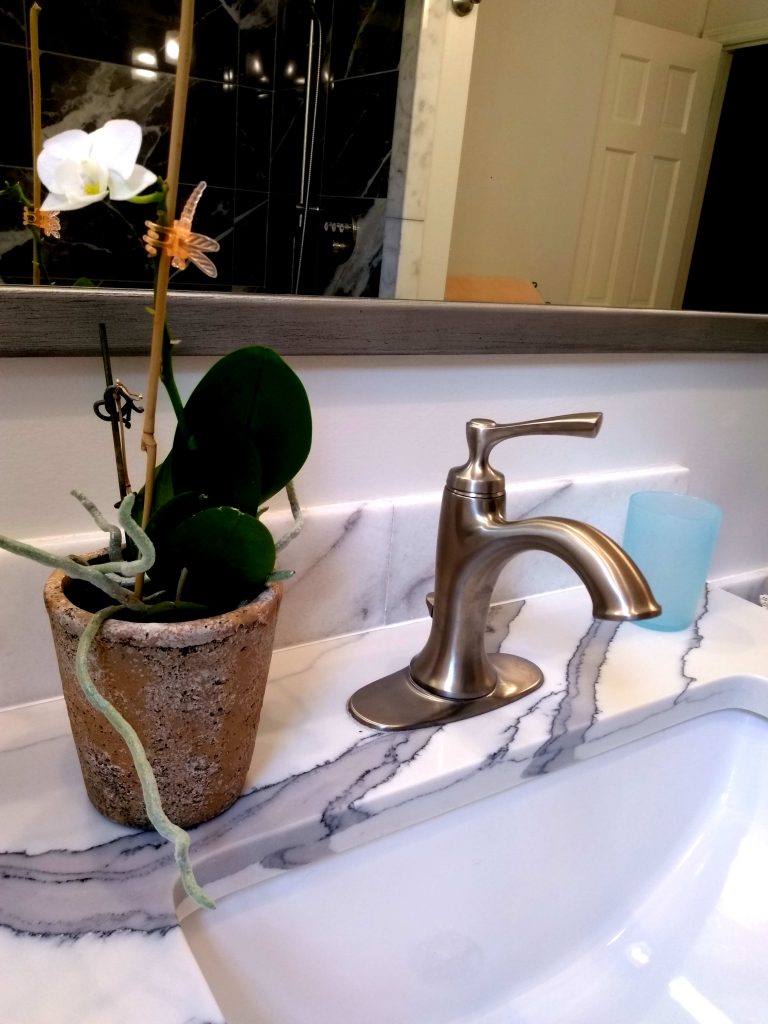 It's a huge piece of plate glass but was showing it's age, getting a bit ugly around the edges. We updated it with a brushed silver frame to match the other fixtures and found simple, slightly larger stainless-steel button screw caps to cover the mounting holes.
The backsplash is the same white marble as the tub trim and I used that same marble to make the ceiling light fixtures as well.
I had some tile left over so below the makeup area, the wall, or perhaps it's better described as the kick area is well protected.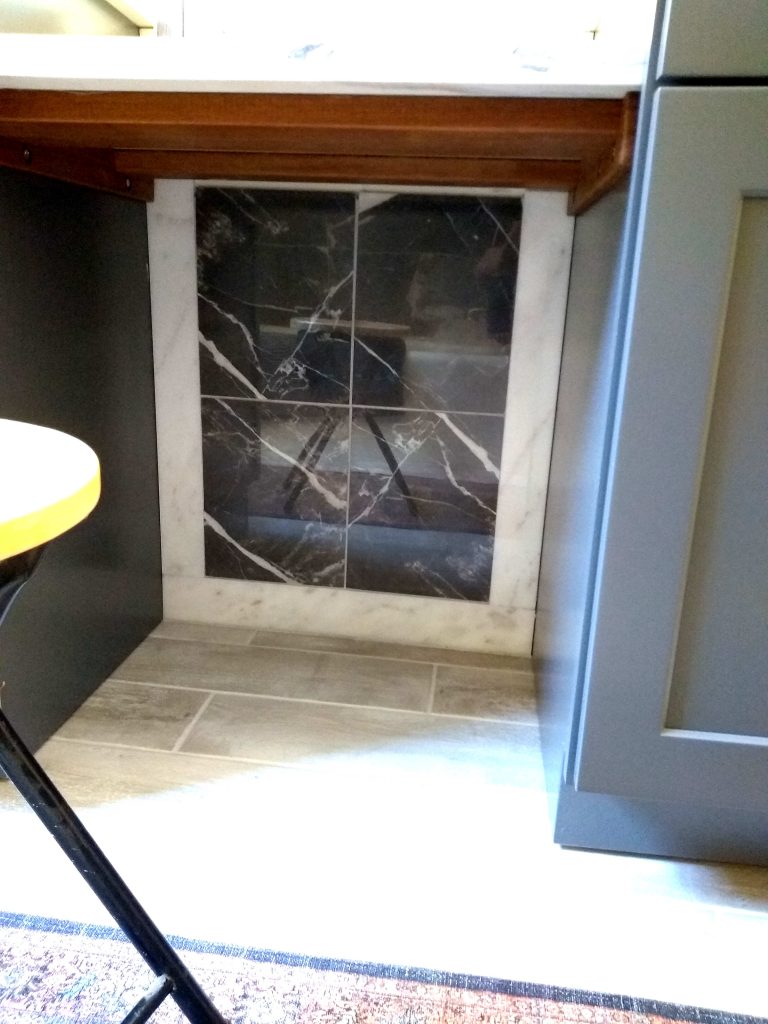 Besides showers, there is something really funny about toilets – We never noticed a problem in Europe but in the USA, some toilets are just ridiculously low. The standard American toilet height is about 14 ½". Yes, they are easier for little kids but kids don't stay small forever.
To resolve that, someone came up with the idea of "Comfort Height" toilets – Jeeeze, it's all in the name! Perhaps they should have instead renamed "Standard Height" toilets "Uncomfortable Height?" Comfort Height is only about 2" more but it makes a world of difference and is the only kind I have installed.
The last thing to note about all the bathrooms I've done is ventilation. Typical bathroom exhaust fans make far too much noise – I really don't like that whirring right above my head. The first thing to do is place the fan farther away, just a few feet of duct work between the vent opening and an in-line fan will significantly reduce the noise. While it was not always a code requirement, it's also important to have the exhaust go outside and not just vent into the attic or whatever cavity is convenient. Venting to outside the house has everything to do with moisture and condensation control. Excess moisture in the air is great for growing mildew so you don't want humidity collecting, especially in the attic where wintertime cold will cause it to condense. Selecting the vent type is a matter of convenience and appearance. Roof top vents and vents in a side wall are the most common but I have used the side wall whenever possible as there is virtually no chance of any future rain leaks.