There are many ways to heat a living space and much the same as the stock market, diversity can be an important consideration. In other words, having more than one option can be handy, especially if there is a power failure.
It has come in handy more than once during winter storms but more important for me, there is a certain coziness that a fireplace brings to a room but traditional open face fireplaces are notoriously inefficient, often taking away almost as much heat as they provide. This is where a good wood stove comes in. There are actually a lot of options, plain wood stoves, pellet stoves, stoves with catalytic chambers for cleaner burning, gas stoves and they are manufactured all around the world.
Our preference is for a look that is not modern or contemporary while also not really old-fashioned. For two different homes we selected this stove made by Jøtul of Norway but there are options for every style.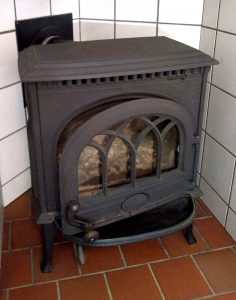 This is the 'Clean Burning' version of the Jøtul F3. It is in a smaller class as we were not looking to heat the entire house but it still provides plenty of heat and, if conditions demand it, the stove can heat multiple rooms.
This stove is connected to a prefabricated insulated Class A double wall stainless steel chimney (U.L. 103 HT) that exits at the roof. Keeping the chimney inside the house is a far more complicated and cumbersome installation process, as you are confronted with walls and ceilings and more care needs to be taken when passing through combustible material but the performance is significantly better. In winter, chimneys that run on the outside of a home are cold. Hot air rises while cool air falls which makes a cold chimney almost a roadblock that can virtually eliminate any air draw. Because an interior chimney is a bit warm, there is always a draw, allowing easy starting and efficient operation.
Needless to say, wood stoves get hot so without a proper insulating layer between it and the house you would be tempting fate. Check local codes and the specifications for your stove but for any relatively close installation, generally at least a 1" air gap is needed between a heat deflecting surface and any combustible surface such as a wall and air needs to be able to flow through that gap.


This design incorporates a multi-layer highly fire resistant floor made of tile, cement board and an unnecessarily think layer of Fiberfrax-Duraboard. Duraboard is one of a few high-temperature fiber board products designed for insulating in extreme temperature environments such as blast furnaces. Those layers sit on a plywood and wood frame while the hollow walls are ceramic tile on cement board fastened to a steel frame.
---
NFPA 211 (National Fire Protection Association) "Standards for Chimneys, Fireplaces, Vents, and Solid Fuel-Burning Appliances" codes are pretty much the standard across the US. Most installation instructions also refer to them but before taking on such a project you should first check your local codes and it never hurts to exceed the specs.